NUSA PENIDA TWO DAY TRIP
Nusa Penida is the largest of three islands off the south eastern coast of Bali, the others being Nusa Lembongan and Nusa Ceningan.
Understand
Totaling some 200 square kilometers, Nusa Penida is much larger than the better known Nusa Lembongan. However, tourist infrastructure is very limited here but growing fast.
Due to a lack of natural fresh water, little is grown or produced on Nusa Penida, and even some basic foodstuffs come in by boat. Visitors should therefore expect higher prices than in Bali, and not bank on any tourism-related luxury items being available for purchase here.
For Guest who would like to explore Nusa Penida island please take easy, we running the tour to Nusa Penida since long time, here we give you tour package program where you have a limited time for your holiday in Bali.
Here we will give you some info regarding the spots that you will visit in 2 days program
First Day:
Sanur Harbor
Some harbor that connecting to Nusa Penida but Sanur is a perfect sandy beach to be a port that can reach around 30 minutes to 1 hour from tourist area Sanur, Kuta, Seminyak, Canggu, Nusa Dua, Ubud. We organizing and prepared a good standard service of fast boat, they have waiting beach office in Nusa Penida, coffee and tea is additional service to enjoy before leaving Nusa Penida.
Angel's Billabong
Angel's Billabong is the first stop from the parking spaces with good steps acces to the main point of Photo spot, it is a natural infinity pool – best viewed at low tide. Be careful when steps down to take a swim and follow the driver suggestion whether can be swim or not.
Broken Beach
Broken beach (Pasih uug) is a large cave that has lost its roof over time. Watch from above as the water come in with the tide, it has a small beach but this cannot be accessed by land. A great place to take photos and giant mantas can sometimes been seen swimming in the sea below.
Kelingking Beach
Kelingking beach is a cliffs form in the shape of a Tyrannosaurus Rex at Kelingking Secret Point Beach it is bound to be a crowd favorite. Kelingking actually translates into English meaning Pinkie a term referencing the smallest finger on the hand. Just like a pinkie promise, the land does also appear to take the form of a Kelingking or pinkie finger. However, it is the comparison to the T-Rex that has caused this location to become so popular.
Cristal Bay
At the end of trip of exploring some phenomenal and natural view the driver will bring you at the blue lagoon with white sandy beach well-known by Cristal Bay where you can get swim-sand-sun, half side with coral reef and the other side with sand on the ground so then you can take snorkeling (the driver will bring snorkeling equipment you need to rent) or you would have relax under beach umbrella (rent 50k) with a bottle of cold Bintang Bir.
Overnight
You need 2 day to explore Nusa Penida west coast and east coast side, there are no big hotel in this hotel for now only homestay or guest house, a simple bedroom as long as with air-condition will be more convenience on for your sleeping.
Second Day
ATUH BEACH with the sunrise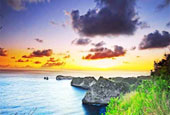 Atuh Beach, or Pantai Atuh, is a hidden beach on the remote south-eastern coast of Nusa Penida island. The beach is secluded by magnificent green cliffs, while various limestone rock formations surround it, adding the sunrise from behind of the rock formation become the view so amazing.
Rumah Pohon
very unique experience where you can stay in a tree-house with fantastic morning sun shine views and leave to explore the island every morning with a flying fox. Built and run by a very friendly local family.
Thousand Island (Pulau Seribu)
Pulau Seribu is not far from Atuh Beach this is another viewpoint located in south east of Nusa Penida island, a number of rocky formation so that way local people call Pulau Seribu or thousand island.
Bukit Teletubbies
is a view with some green mound spread out as the background of viewpoint, this area is remembering of us a serial television of Teletubbies with the stars Tinky, Wingky, Lala and Po.
Gua Giri Putri
Gua Giri Putri is a hidden cave with a very small entrance and can only be passed by one person, but after inside the cave how amazed you see a very large cave and this is probably the largest in Indonesia, there are about 4 Hindu temples that will be through, at the end of this cave you a open window facing to green Clift.
Two Day Trip Nusa Penida
Itinerary:
At 7.30 AM pick up at the hotel lobby (area Kuta, Seminyak, Canggu, Sanur, Nusa Dua Ubud)
8:30 AM departure from Sanur harbor by fast boat to Nusa Penida
9:30 AM arrive Toyo Pakeh harbor at Nusa Penida.
Driver will waiting you at the harbor, he hold a signage with your name printed.
30 minutes check-in proses at your accommodation
Tour started visit: Angel's Billabong, Broken Beach, Kelingking Beach, and the end of trip relax at Crystal Bay swim or snorkeling, lunch on the route
Overnight at your accommodation
5:00 AM early morning pick up by driver to get sunrise at the Atuh Beach and then to Rumah Pohon (Tree house), Pulau Seribu, Bukit Teletubbies, Gua Giri Putri, lunch on the route.
Take the luggage at the accommodation, check-out proses.
Get the harbor at 4.00 PM, refresh at the fast boat office drink coffee or tea
4:30 PM leave Nusa Penida to Bali
Arrive at Sanur harbor around 5.30 PM and transfer to Hotel
PRICE
For 2 PAX IDR 1.645K per person
For 3 PAX IDR 1.362K per person
For 4 PAX IDR 1.108K per person
For 5 PAX IDR 1.035K per person
If You would like to take only one Day tour Package please click HERE!
INCLUDE
Pick up and drop off service hotel-port in Bali
Return transfer boat
Private transport in Nusa Penida
English speaking driver
Room
Breakfast 1 x
Mineral water
All entry ticket
Optional:
Snorkeling Rp. 350K per person (minimum 2 persons)
Snorkeling activity is an option with visiting 3 points; Manta Ray point and Crystal bay, Gamat, include on this activity: Snorkeling equipment and boat.
Note: if you take snorkeling so then you cut the time for island tour, you may skip 1 or 2 places to visit, but most of our guest can get all places if you follow the driver and captain guidance.
WITH HONESTLY I SHOULD TELING YOU ABOUT THIS TRIP:
Only Van with maximum 5 person passenger operate, street is narrow, part of street is demage and bumpy.
High season may traffic will be slow.
The trip to Nusa Penida is new trip, our government is not ready to accommodate all public facilities yet, small restaurant available, the public facilities is not complete like toilet.
We are Bali Custom Tour is only helping you to organize your holiday and focusing to our service.
Most visitor said "it worth"
Payment:
For Instant Booking: You can pay to the driver when you meet at the hotel or villa lobby by cash in Dollar or Rupiah
For a week reservation prior departure we need a prepayment due to always high season pay by paypal plus 4.2% transaction fee
Cancelation:
Free cancelation fee if the cancelation made 7 day prior Departure
Video


Gallery